Panoramic view of Shimoda's ocean
The Sea
Cottages
Ocean Cottage
The view of the tranquil ocean stretches out before you.
If you listen carefully, you will be healed just by being in the "sea cottage" with the sound of gentle waves and the scent of the sea.
Enjoy an extraordinary experience at the "Sea Cottage" along with the adjacent barbecue area and private pool.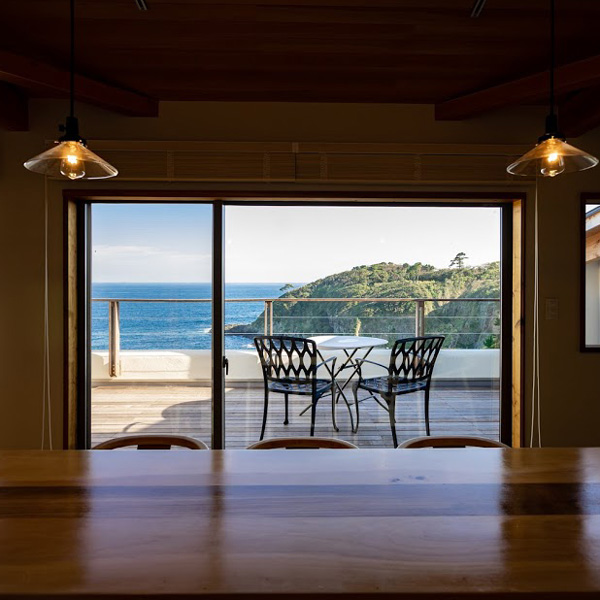 Located on the southern tip of Izu Peninsula

Cottage
The great nature of the Izu Peninsula, known as Tokyo's backyard
Time Flows Slowly
Cottage where you can casually come when you get a little tired.
Tokyo has a little bit of luxury backyard called "Izu Peninsula. Shimoda, located at the southern tip of the peninsula, was opened to the world with the arrival of the black ships at the end of the Edo period. It is still an undeveloped area, so visitors can enjoy the seasonal flowers, birds, winds, and moon.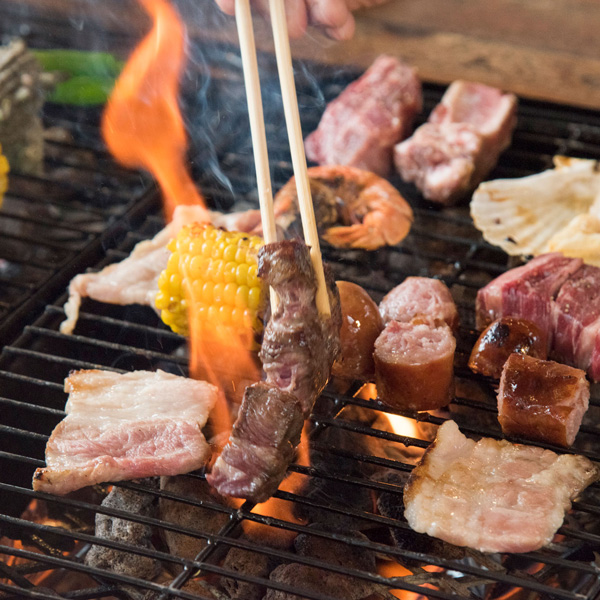 At the Cottage

What do you do?
Relax and heal in the great nature of Shimoda.
Adjacent private pool and BBQ area for entertaining
Relax on the spacious terrace or in the living room.
The ocean of Shimoda is just a stone's throw away from the Cottage by the Sea! The sound of the waves and the smell of the sea will soothe you. There is a slightly larger terrace and a BBQ area on the premises. The private pool can be enjoyed as a heated pool in winter and as a regular pool in summer.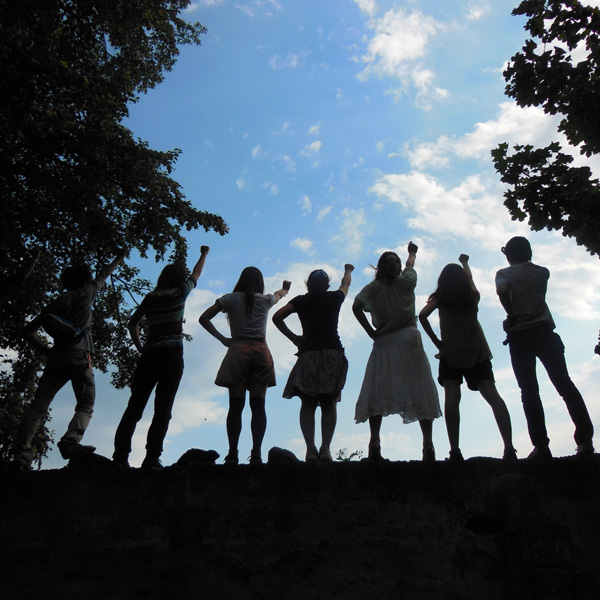 Large Groups

Enjoy
Three-generation families, multiple families, etc.
Company colleagues, like-minded friends, etc.
University clubs, etc.
The size of the "Sea Cottage" can accommodate up to 10 people. Small children are quite careful in inns, but in cottages with less public space, children and the elderly can be at ease!
SEASON
- Four Seasons at the Cottage
PLACE
- Cottage Locations - Cottage Locations
On the grounds of Garden Villa Shirahama
There are "sea cottages."
Sea Cottage
plan of a house
1st floor
  Western-style room: 14.33 m2 (8.66 tatami mats)
  Japanese-style room: 15.51 m2 (9.36 tatami mats)
  Loft bed: 6.93 m2 (4.18 tatami mats)
  Bathroom: 7.20 m2 (4.35 tatami mats)
Second floor.
  Terrace: 26.25 m2 (15.85 tatami mats)
  Living room: 12.54 m2 (7.57 tatami mats)
  Dining room: 8.35 m2 (5.06 tatami mats)
  Kitchen: 4.08 m2 (2.46 tatami mats)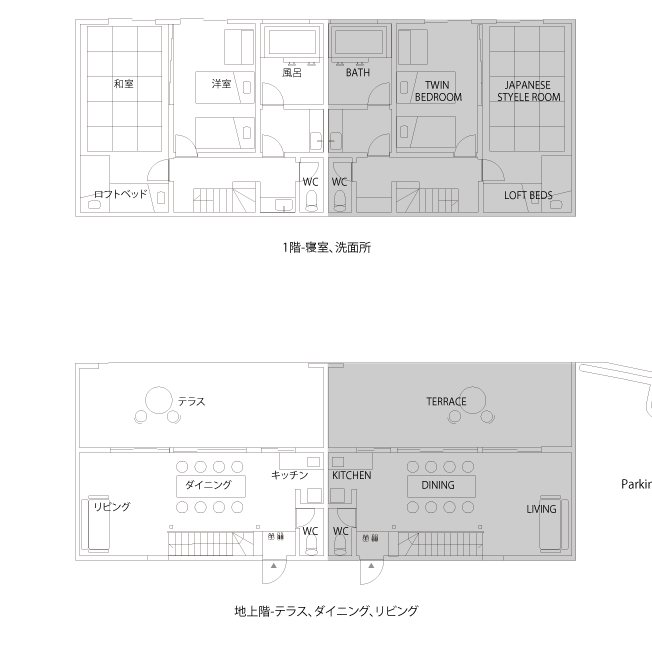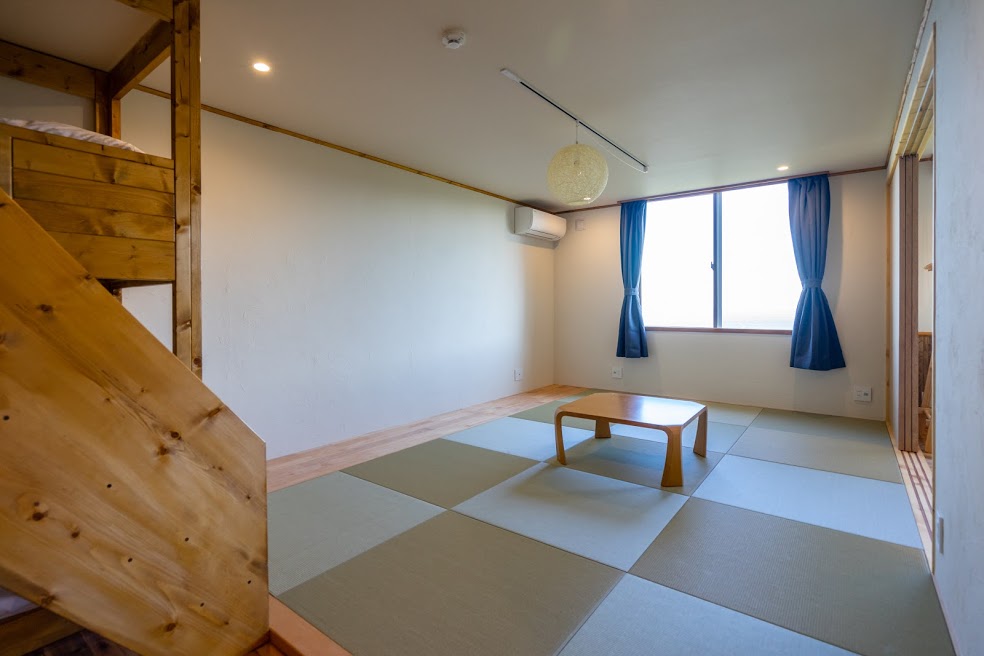 Equipment
Kitchen facilities: IH stove with 2 burners, toaster oven, refrigerator (size for 2 people for general household use), microwave oven, handy vacuum cleaner
Cooking utensils: medium size one-handed pot, kettle, frying pan, kitchen knife, cutting board, tongs, spatula, kitchen cloth
Utensils, etc.: flatware, soy sauce dishes, cereal bowls, mugs, clear plastic cups, spoons, forks, knives (generally 10 each)
Items that can be rented separately at the front desk: sugar, salt, pepper, oil, soy sauce, gas stove, pot, splittable chopsticks (please ask at the time of check-in)
Amenities included
Bath towels, face towels, yukata (Japanese bathrobe), toothbrushes (enough for each person), bath mat, hair dryer, shampoo, conditioner, body soap, lotion, milky lotion
*If you are staying for two consecutive nights, we will provide two days' worth of toiletries in your room. After that, we will change them every day if you wish.
*Cleaning during your stay is available for an additional ¥3,000.
How to use
Please check in at the front desk of Pension Garden Villa Shirahama.
One parking space is located next to the cottage, but please confirm the parking location for the second and subsequent parking spaces upon check-in.
It isin the same facility as the main building, Garden Villa Shirahama, butit is an independent facility with different services.
There is also a barbecue facility called "Izu Shirahama Barbecue Garden" on the premises, and from April to October, reservations can be made for barbecue without cooking.
Click here to make reservations for your stay/.
FAQ
- Frequently Asked Questions -
Can I reserve one cottage for 12 people or something?

Cottages are limited to 10 people, so 2 people should reserve the main building.

Or please reserve 2 cottages for 6 people each.
Are private pools and private outdoor baths available?

A private pool is available, but the private open-air baths are only for guests of the Garden Villa main building.

The cottage's large bathroom can be used for bathing at any time during the rental period.
Can I bring food into the cottage?

Of course it is okay! We have a small kitchen, but it is equipped with cooking utensils and dishes.

BBQ on the terrace is not allowed, but you can bring your own BBQ if you pay 700 yen/person at the BBQ area adjacent to the terrace!
Can I rent a cottage and furthermore camp on the lawn?

There is a charge for this service, but it is available when available.
World

Cottages in

The history of the cottage can be traced back to medieval Europe, when barn-like buildings were built for farm workers to live in, and they flourished in England. Later, wealthy people began to build cottages as vacation homes, and in the U.S., cottages are used as weekend or summer homes, and in Japan, cottages are used as places where people can casually visit with only their luggage.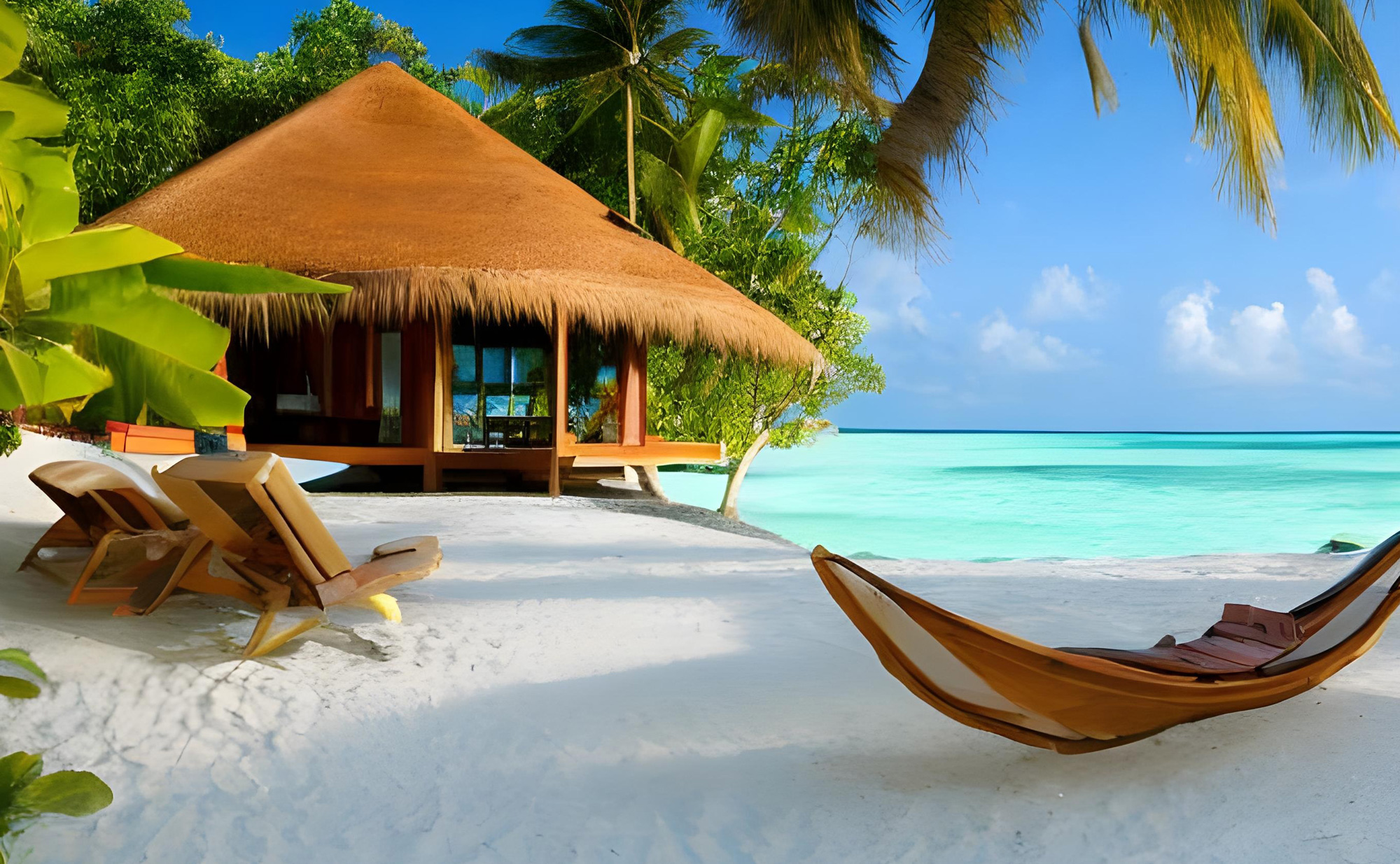 Cottages

Features of

Cottages are usually single-family rental villa accommodations, but they can also be separate types, such as "sea cottages. Cottages are located in nature-rich summer resorts away from the hustle and bustle of the city, or in places where you can enjoy the great outdoors. The main feature of a cottage is that it may be fully furnished and equipped with furniture and appliances, including a kitchen, cooking utensils, and even tableware. Cottages offer a place to barbecue or enjoy the company of a large group of people.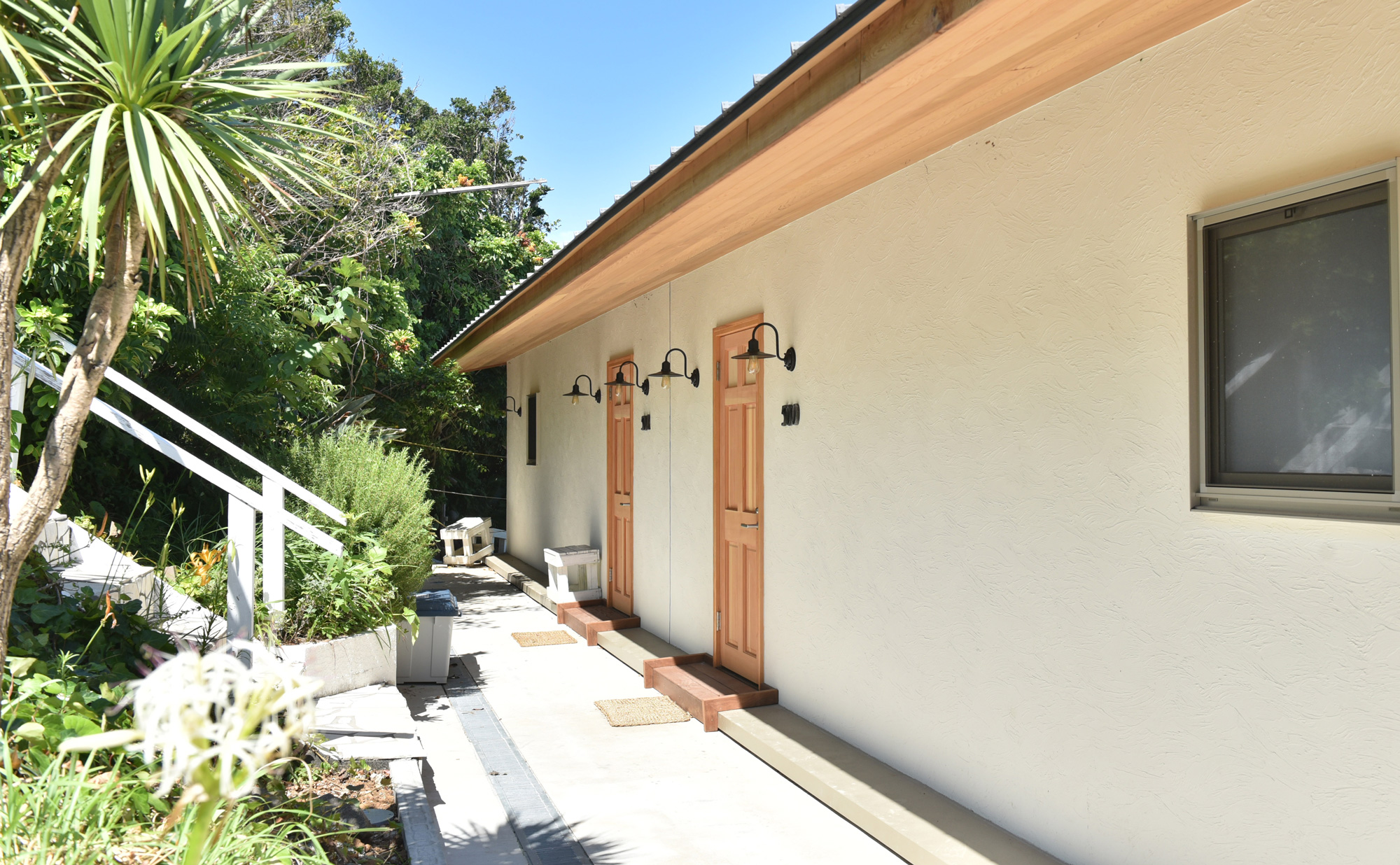 Bungalows

Difference from

We are often asked what is the difference between a cottage and a bungalow. A bungalow is a simplified version of a cottage. Cottages are equipped with all the amenities you would expect to find in a cottage, such as a bathroom and toilet, and even bedding is sometimes available for a fee.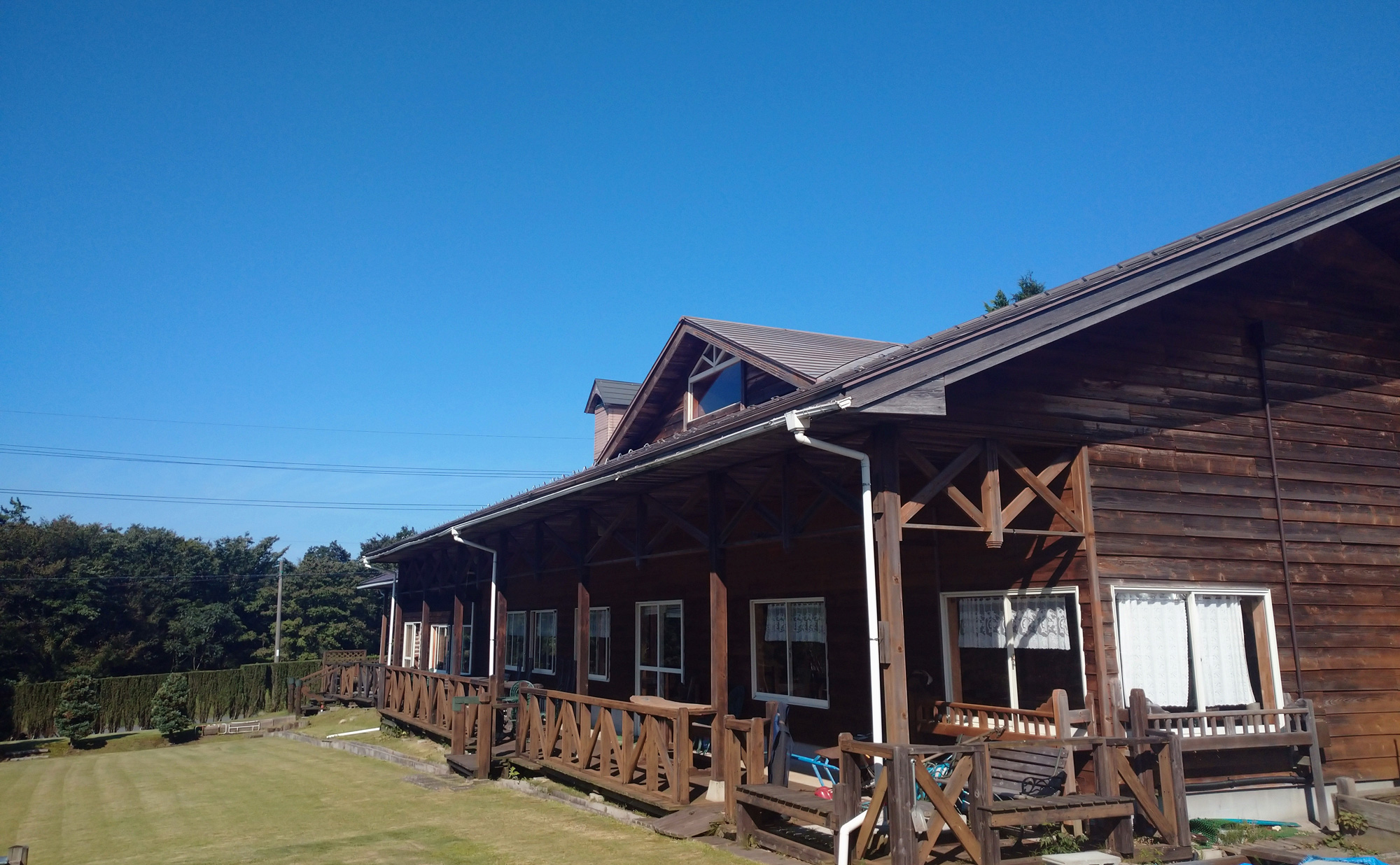 Fun and Memories
At the "Cottage by the Sea"...